---
Pittsburgh Dept. of City Planning
The Department of City Planning shapes land use (who builds what, for what purpose) in Pittsburgh, a city that owns more than 3,000 vacant parcels of tax-delinquent land.
Inspired by Lots to Love and the DCP's adopt-a-lot program, we developed a native mobile service that
facilitates the vacant lot discovery and application process to help citizens reap the benefits of a vacant lot through community projects, urban gardens, and more.
-> For a more in-depth look into our process, check out our
process book here!
-> Collaborators: Rena Li, Sofia Kirkman, Chenyu Chen
-> Spring 2021
-> 5 weeks

︎ UX/UI Design





-> MY ROLE

I contributed to the visual design of the screens, user flow, and designed the final lo-fi wireframes. I also pushed for strong user and domain research throughout, and became to go-to person on the vacant lot application process.

-> Problem Space
The City of Pittsburgh Department of City Planning has thousands of delinquent properties that have yet to be put to use.
Several groups, particularly those in low income areas, could benefit if investors turned these properties into public community areas such as parks or education and recreation centers. Our response to this problem was to implement a new service through a native mobile app.
The overarching goal of our service was to allow citizens of Pittsburgh to get involved in improving their communities by effectively investing in delinquent properties.
A map of all vacant lots in a section of Homewood, a predominantly african american neighborhood. The community makes up the largest portion of vacant lots in Pittsburgh.
Key Takeaways from Domain Research



2. Vacant and delinquent properties are often markers of systemic issues within a neighborhood.
Vacant lots exist often times as a result of the percieved lack of appeal of an area, discouraging investors or potential property owners to develop a property. Because lower incom areas have lower property value, developing vacant lots may be an endeavor that is ultimately not financially profitable.
2. Projects rely on stakeholder collaboration and partnerships with external organizations.
City planning projects, whether large or small, have a profound impact on a large community of stakeholders, and can play a role in solving or perpetuating systemic issues. Because of this, the DCP Involves many stakeholders and external organizations in their projects.
3. The DCP's main 'product' is its land.
Local governments earn money and fund themselves through taxes. Vacant lots and tax delinquent properties inhibit this value flow, as it serves no benefit to citizens and does not bring income through taxes.
4. City planning projects are a long and exhaustive process
. Based on our research on existing and past community development plans, city planning projects can last up to 10 years from conception to completion. However, they work as plans within plans– one project can involve several smaller projects within a smaller scope.
Mapping Stakeholders and Value Flows
We then developed a stakeholder map to better understand
how value flows within the lot application process.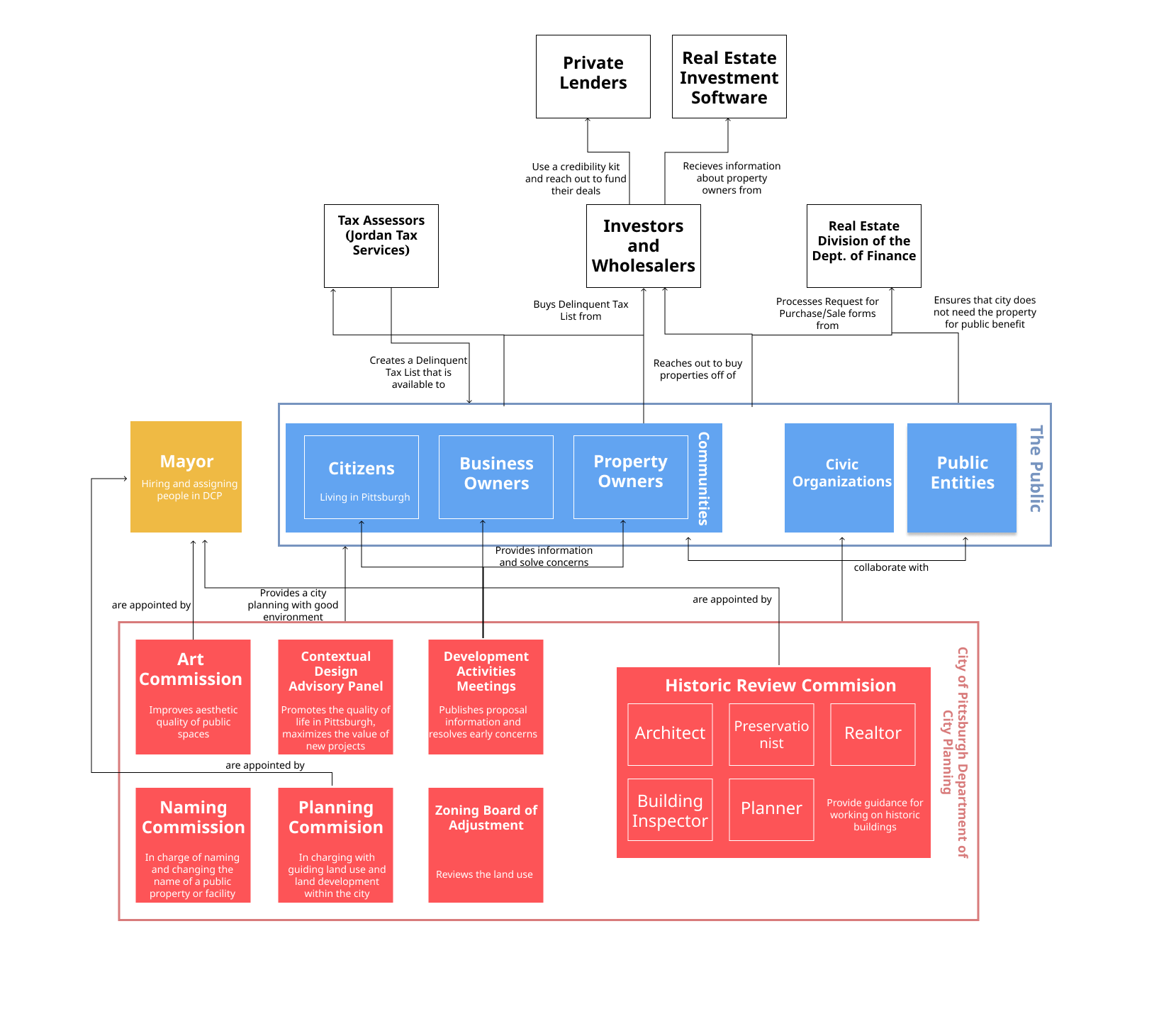 Making Connections
As we synthesized our domain and stakeholder research, we built a stakeholder value map to understand the key players in our problem space and discover what their relationships and needs are.
We noticed that investors play a key role in the development of delinquent properties. However, the application process of obrtaining a property is long and complicated. General citizens who do not have investment knowledge also tend to be left out of the loop even though they may care what happens to their communities in terms of city planning.

Determining a Target Audience
We decided to design our app for citizens who may have an interest in bettering their community and becoming investors. They may also have certain skills (e.g. architecture, design, landscaping, art) that could be employed when developing a delinquent property.

We determined that by getting the citizens involved in city plans, we could take some of the load off of the City Department of Planning to develop the lots. We could also provide the city and applicants with an easier application processing which would ensure that documents would get filled in correctly and on time. Lastly, we considered that our app could provide useful data for the City Department of Planning so that they could identify the areas the public is most interested in developing.
Concept Mapping
To explore service concepts, we challenged pre-existing assumptions about our domain through an assumptions and reversals exercise.
The exercise forced us to think about the jobs to be done because we were no longer assuming that certain problems did not exist. Jobs to be done are usually subtle and unsaid, but they maintain the status of the current situation because stakeholders believe that the situation cannot be changed, or they develop work-around solutions. Not only did we use this exercise to consider all sides of the current situation - we also used it as an opportunity to generate ideas for how our service could respond to the jobs to be done.

We came up with design briefs that allowed us to empathize with Pittsburgh citizens and the Department of City Planning. Many of our ideas revolved around getting citizens involved in city plans and helping the city organize their delinquent properties. We referred to our stakeholder map to understand what the current needs and desires of these target groups if they were offered a service that could change the current situation for them. This design brief clarified what our design goals before we jumped into creating prototypes.

Lo-fi Prototype
I sketched out a comprehensive lo-fidelity prototype based on the functionalities we brainstormed as a team.
During our brainstorming phase, we knew that the main focus of our service was to create a channel for regular citizens to have easy access to the vacant lots the City of Pittsburgh had. This thought process was what made our map screen the central entry point for our service. During this phase of prototyping, we also included the crude beginnings of our dashboard screen and community screens. We had also wanted to include a VR feature where users could tour the physical space virtually. We were also toying with the idea of an AR feature where artists and architects could ideate their projects onto the space, but scrapped the idea because of scope concerns.

Mid-fi Prototype
After challenging pre-existing assumptions, we pivoted to emphasizing on streamlining the lot applications for our users.
During this stage in the prototyping, we built out the features we brainstormed in our previous prototype. We didn't want to include color during this stage, focusing more on content design decisions, such as which screens and icons were most important, rather than visual design decisions.
This was also the stage where we had to consider where information could be stored, such as saved properties and saved projects. We needed a place to put these that the user could easily access, but there wasn't enough data to warrant separate pages for each. These problems were what inspired our future dashboard page.

Hi-Fi Prototype
We incorporated our brand image into the Hi-fi prototype, and made tone changes in the microcopy.
The structure was changed into three tabs: community page, map page and dashboard page. Which integrates the former four tabs and makes the main feature stand out.
App Overview
Our service goal is to provide the city with a better way to organize lots in a way that is more accessible to citizens, as well as encouraging citizens to be involved in community projects. We will accomplish this three different ways:
1. Help citizens find vacant lots that best fit their needs
2. Streamline the vacant lot application process for investors.
3. Allowing individuals to reach out to other organizations to collaborate on community projects.
Help citizens find vacant lots that best fit their needs
Streamline the vacant lot application process for investors.
Allowing individuals to reach out to other organizations to collaborate on community projects.