Uncover AIGA
A web experience that faciliates a data exploration of the 2019 AIGA* Design Census.
*American Institute of Graphic Arts
Using an expansive spreadsheet with over 9000 responses about designers' income, quality of work/life amongst other data points, the website translates the depth of a designer's experience beyond a statistic by providing insight to quotes and anecdotes:
the true thoughts and voices behind the numbers we so easily digest.
-> Collaborators: Francis Park, Hayoon Choi, Sarah Xi
-> Spring 2022

︎ Web design
︎ Branding
︎ Data Visualization
︎ Web development



-> MY ROLE
In addition to design, brand, and concept development, I was the lead web developer on the team and handled all aspects of web development. I also led my team in data analysis and content collection using python. I handed off asset creation to my teammates as I began coding the website. You can access the in-progress web prototype
here.
The website itself is coded in static HTML and only one flow (demographic) is clickable. I plan to rebuild the website using a content management system!
-> DESIGNING KEY INTERACTIONS

01: Landing page animation
The landing animation is designed to capture the user's attention and hints towards the masking interaction that is used throughout the site.
02: Homepage & Progressive Disclosure
Our website is designed around the idea of progressive disclosure, echoing the theme in our data collection. As the user continues to browse the site, additional feature are added.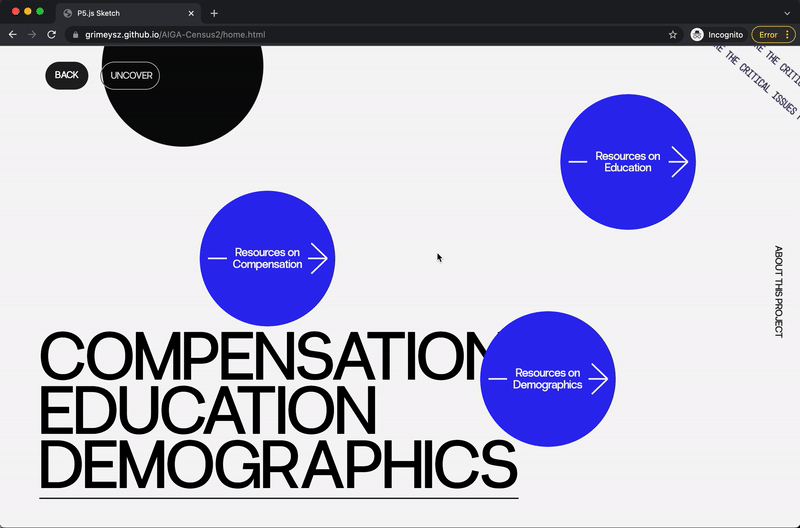 Below is what the user sees the first time they land on the page.
03: Category and quote selection
Once the user selects a category, they are then prompted to select a data point. This services as a data driven starting point that will later allow the user uncover deeper insights related to data. To go along with the uncover theme, data points are hidden underneath and circles are used as markers to assist the user in their discovery.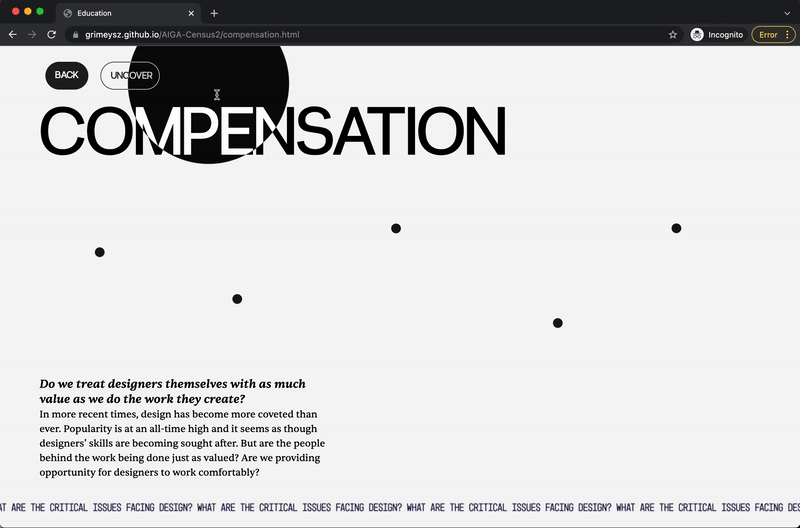 Data points become fully uncovered to indicate that the user has already explored the page.
04: Uncovering individual voices
Clicking on the data points takes the user to the respective page where they explore a visualization of the designers that the data speaks to. This serves as an entry point into the quote section which also speaks to the nature of the data collection.
The balls serve as a data visualization, where the dark balls represent the individuals that make up the particular data point.
04: Quotes page
This was the most information heavy section of our website. We aimed to make the interaction informative yet delightful by implementing animations in the quotes preview section every time the user scrolls to a quote. Each draggable sticker represents information about the author of the quote.
We also had plans to have the stickers allow the user navigate to a quote page that compiled the quotes of designers of the chosen attribute. I was unable to implement this in our current web prototype due to technical limitations, but it is something I hope to do in the future!
-> RESEARCH AND DATA ANALYSIS
Understanding the census
For a more in-depth look into our process, check out our notion page!
We used various forms of high-level analysis to understand the content, from generating graphs to taking more qualitative approaches with word maps.
Through this process, we found ourselves drawn to a column of data that allowed the users to input a long-form response that answered: I feel the most critical issues/challenges facing design are: ... Many of the responses responded to topics surrounding equity, access, the way one's identity intersects with their practice. When crossing the quotes with the more statistical research we'd done, we found interesting relationships between concrete things happening in the industry and the perspectives of those affected by them.
How can we better represent the relationship between data points and the people they represent? What value can a blend of quantitative and qualitative data provide?



Although representing language and words in this manner was not something we brought forward with us in the process, only through this step were we able to recognize the importance of "voice and candidness" in our thinking process. With these interests in mind, we began honing a bit more into identifying recurring themes within the long-form responses, which would give us a bit more insight into what kind of data and overall messaging we wanted to communicate.
We relied on Python and google sheets filtering system to identify correlations in the data. We mapped these findings to one of three categories, and later found quotes from individuals that the data points speak towards. We then converted our sheet into JSON files to be loaded onto our website.
-> REFLECTION AND KEY TAKEAWAYS
As a team, we spent a lot of time nailing down our concept and supporting our ideas through systematically analyzing and gathering data. As a designer I tend to lean towards the flashy, but due to the scale and scope of our project, we decided to go with a simple, type driven design to let the content shine and easier to digest. The visual direction we took made me learn a lot about finessing a simple design to a high degree, which I now value greatly in the work I create.

This project was also a huge challenge to me as the sole coder on the team. Not only did we have to design collaboratively, we had to design with implementation in mind. The biggest problem we ran into in terms of implementation was content management. Because our website contains many page hierarchies all with different variations, it was crucial that we used a content management system. However, I didn't realise this until towards the deadline, which forced us to code our templates in static HTML which was a very time consuming process.
---
Pittsburgh Dept. of City Planning
The Department of City Planning shapes land use (who builds what, for what purpose) in Pittsburgh, a city that owns more than 3,000 vacant parcels of tax-delinquent land.
Inspired by Lots to Love and the DCP's adopt-a-lot program, we developed a native mobile service that
facilitates the vacant lot discovery and application process to help citizens reap the benefits of a vacant lot through community projects, urban gardens, and more.
-> For a more in-depth look into our process, check out our
process book here!
-> Collaborators: Rena Li, Sofia Kirkman, Chenyu Chen
-> Spring 2021
-> 5 weeks

︎ UX/UI Design





-> MY ROLE

I contributed to the visual design of the screens, user flow, and designed the final lo-fi wireframes. I also pushed for strong user and domain research throughout, and became to go-to person on the vacant lot application process.

-> Problem Space
The City of Pittsburgh Department of City Planning has thousands of delinquent properties that have yet to be put to use.
Several groups, particularly those in low income areas, could benefit if investors turned these properties into public community areas such as parks or education and recreation centers. Our response to this problem was to implement a new service through a native mobile app.
The overarching goal of our service was to allow citizens of Pittsburgh to get involved in improving their communities by effectively investing in delinquent properties.
A map of all vacant lots in a section of Homewood, a predominantly african american neighborhood. The community makes up the largest portion of vacant lots in Pittsburgh.
Key Takeaways from Domain Research



2. Vacant and delinquent properties are often markers of systemic issues within a neighborhood.
Vacant lots exist often times as a result of the percieved lack of appeal of an area, discouraging investors or potential property owners to develop a property. Because lower incom areas have lower property value, developing vacant lots may be an endeavor that is ultimately not financially profitable.
2. Projects rely on stakeholder collaboration and partnerships with external organizations.
City planning projects, whether large or small, have a profound impact on a large community of stakeholders, and can play a role in solving or perpetuating systemic issues. Because of this, the DCP Involves many stakeholders and external organizations in their projects.
3. The DCP's main 'product' is its land.
Local governments earn money and fund themselves through taxes. Vacant lots and tax delinquent properties inhibit this value flow, as it serves no benefit to citizens and does not bring income through taxes.
4. City planning projects are a long and exhaustive process
. Based on our research on existing and past community development plans, city planning projects can last up to 10 years from conception to completion. However, they work as plans within plans– one project can involve several smaller projects within a smaller scope.
Mapping Stakeholders and Value Flows
We then developed a stakeholder map to better understand
how value flows within the lot application process.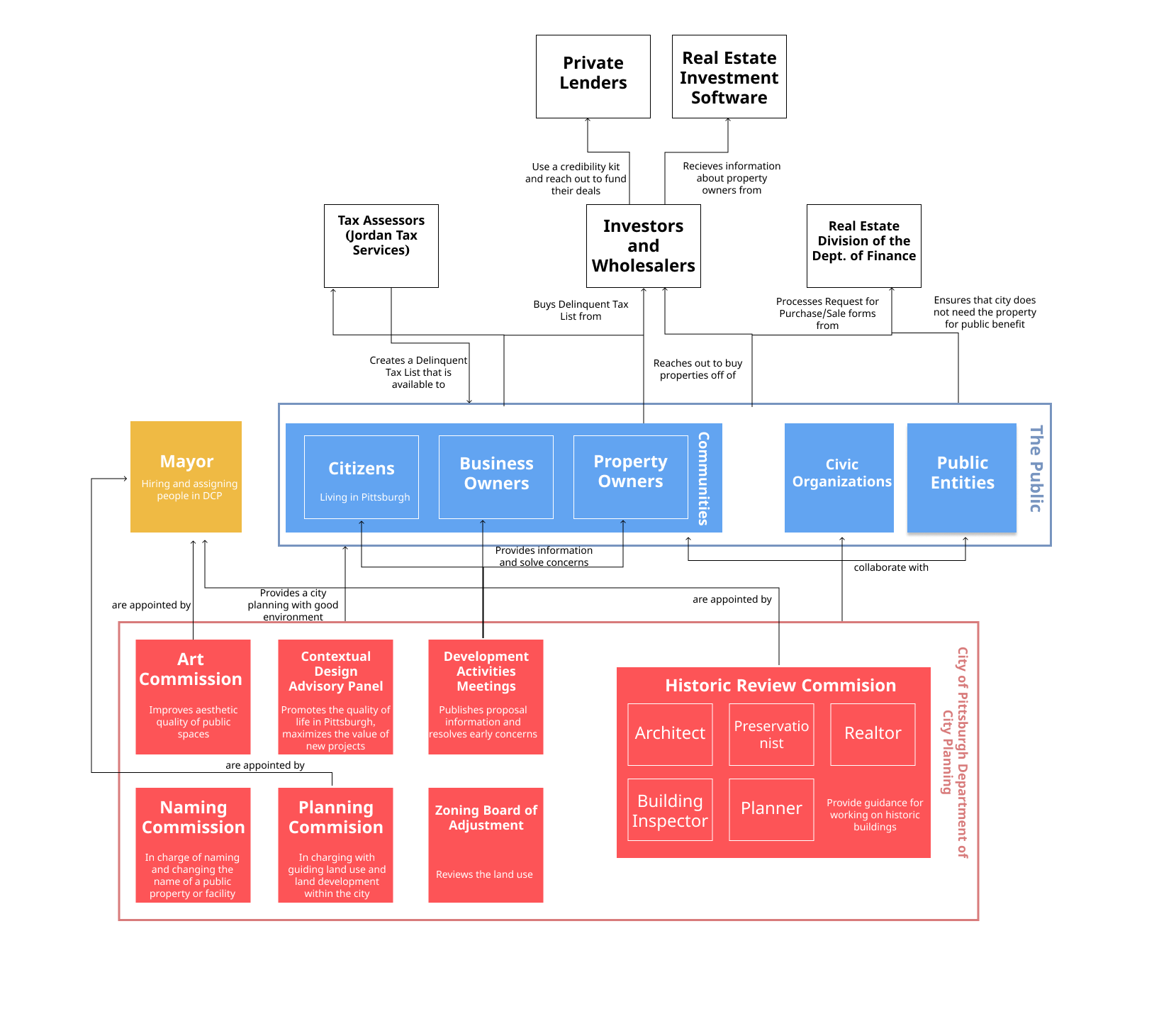 Making Connections
As we synthesized our domain and stakeholder research, we built a stakeholder value map to understand the key players in our problem space and discover what their relationships and needs are.
We noticed that investors play a key role in the development of delinquent properties. However, the application process of obrtaining a property is long and complicated. General citizens who do not have investment knowledge also tend to be left out of the loop even though they may care what happens to their communities in terms of city planning.

Determining a Target Audience
We decided to design our app for citizens who may have an interest in bettering their community and becoming investors. They may also have certain skills (e.g. architecture, design, landscaping, art) that could be employed when developing a delinquent property.

We determined that by getting the citizens involved in city plans, we could take some of the load off of the City Department of Planning to develop the lots. We could also provide the city and applicants with an easier application processing which would ensure that documents would get filled in correctly and on time. Lastly, we considered that our app could provide useful data for the City Department of Planning so that they could identify the areas the public is most interested in developing.
Concept Mapping
To explore service concepts, we challenged pre-existing assumptions about our domain through an assumptions and reversals exercise.
The exercise forced us to think about the jobs to be done because we were no longer assuming that certain problems did not exist. Jobs to be done are usually subtle and unsaid, but they maintain the status of the current situation because stakeholders believe that the situation cannot be changed, or they develop work-around solutions. Not only did we use this exercise to consider all sides of the current situation - we also used it as an opportunity to generate ideas for how our service could respond to the jobs to be done.

We came up with design briefs that allowed us to empathize with Pittsburgh citizens and the Department of City Planning. Many of our ideas revolved around getting citizens involved in city plans and helping the city organize their delinquent properties. We referred to our stakeholder map to understand what the current needs and desires of these target groups if they were offered a service that could change the current situation for them. This design brief clarified what our design goals before we jumped into creating prototypes.

Lo-fi Prototype
I sketched out a comprehensive lo-fidelity prototype based on the functionalities we brainstormed as a team.
During our brainstorming phase, we knew that the main focus of our service was to create a channel for regular citizens to have easy access to the vacant lots the City of Pittsburgh had. This thought process was what made our map screen the central entry point for our service. During this phase of prototyping, we also included the crude beginnings of our dashboard screen and community screens. We had also wanted to include a VR feature where users could tour the physical space virtually. We were also toying with the idea of an AR feature where artists and architects could ideate their projects onto the space, but scrapped the idea because of scope concerns.

Mid-fi Prototype
After challenging pre-existing assumptions, we pivoted to emphasizing on streamlining the lot applications for our users.
During this stage in the prototyping, we built out the features we brainstormed in our previous prototype. We didn't want to include color during this stage, focusing more on content design decisions, such as which screens and icons were most important, rather than visual design decisions.
This was also the stage where we had to consider where information could be stored, such as saved properties and saved projects. We needed a place to put these that the user could easily access, but there wasn't enough data to warrant separate pages for each. These problems were what inspired our future dashboard page.

Hi-Fi Prototype
We incorporated our brand image into the Hi-fi prototype, and made tone changes in the microcopy.
The structure was changed into three tabs: community page, map page and dashboard page. Which integrates the former four tabs and makes the main feature stand out.
App Overview
Our service goal is to provide the city with a better way to organize lots in a way that is more accessible to citizens, as well as encouraging citizens to be involved in community projects. We will accomplish this three different ways:
1. Help citizens find vacant lots that best fit their needs
2. Streamline the vacant lot application process for investors.
3. Allowing individuals to reach out to other organizations to collaborate on community projects.
Help citizens find vacant lots that best fit their needs
Streamline the vacant lot application process for investors.
Allowing individuals to reach out to other organizations to collaborate on community projects.
Ginger
While most college students are forced to live on a budget, they lack the necessary time, tools, and knowledge to help them save money on food as well as mantaining a healthy diet. Ginger is a mobile app that addresses this problem by creating a fridge management system that streamlines the grocery shopping process and minimizes food waste.

︎︎︎Collaborators: Sarah Xi


︎︎︎Self Initiated
︎︎︎Fall 2021

︎ User Research
︎ UX Design
︎ UI Design



-> MY ROLE
My teammate and I shared equal roles over the course of the project. I contributed more significantly to user flow, crafting the overall structure of each screen, and information architecture.
-> PROBLEM SPACE
How might we facilitate healthier eating habits among college students?
Through our preliminary research, we found that
college students that have good eating habits aren't just good cooks– they are also good at managing the ingredients in their fridge
.
Many students have an interest in cooking and a desire to eat healthy, but are often times forced to prioritize school over healthy eating depending on the workload they are given throughout the year.
-> PROJECT OVERVIEW


Ginger is aimed to make it easier for users to build healthy eatings habits by addressing three different pain points: 1) Letting users know when their food is about to go bad, allowing them to plan meals ahead of time based on the perishability of each ingredient. 2) Giving users an overview of their fridge to streamline and improve the grocery shopping process. 3) Offering suggestions on what to do/cook with the ingredients in their fridge, as well as how to extend its longevity, preventing the possibility of food going to waste.
-> RESEARCH
To scope our project, we did preliminary research and brainstormed a list of questions one might think about when digging through their fridge. This included thought processes from various types of people like parents, college students etc. What we found, is that many students who have an interest in cooking and eating healthily tend to manage their fridge well, but is oftentimes forced to prioritize schoolwork over their healthier lifestyle choices.
-> CHALLENGE
Through our interviews, we discovered 4 key pain points and misconceptions about our problem space.
Work/Life Balance: Many students have an interest in cooking and a desire to eat healthy, but are often times forced to prioritize school over healthy eating depending on the workload they are given throughout the year.
The grocery trip is not where the problem ends: Due to lack of free time and a limited knowledge of cooking, groceries often end up going bad in the fridge.
Consistency is key: It is not uncommon for students to make a few great meals every once in a while after a big grocery trip and lose track of the food in their fridge.
It's not just about the money: Maximizing the resources available to you in the correct time frame is an important factor in saving money on groceries.
-> SOLUTION
After these findings and considerations, the solution we came up with is a fridge management app called
Ginger
Our prototype addresses these
three goals:

Ginger's
core values
surround the
flexibility
and
customizability
Users can interact and use the app best suited for their needs, whether it's to keep track of expiration dates, to use it as a grocery list, or even see what recipes they can use based on what they have. From this, Ginger can help facilitate or even create a new relationship between the user and food/cooking by nurturing or developing habits they find important.
This project is currently ongoing and we plan to iterate upon it through user testing. Ask us about how our diary studies are going!
The Life and Work of Alvin Lustig
A multi-media project about the life and work of my Design Hero, Alvin Lustig. Done over the course of a single semester, I explored Motion, Print, and Mobile as mediums to tell a single story.
︎︎︎Spring 2021
︎︎︎4 Weeks
︎︎︎Individual

︎ Print Design
︎ Motion Graphics
︎ UI Design

Video
A short motion graphics piece about Lustig's life and work told through his partner and collaborator, Elaine Lustig Cohen.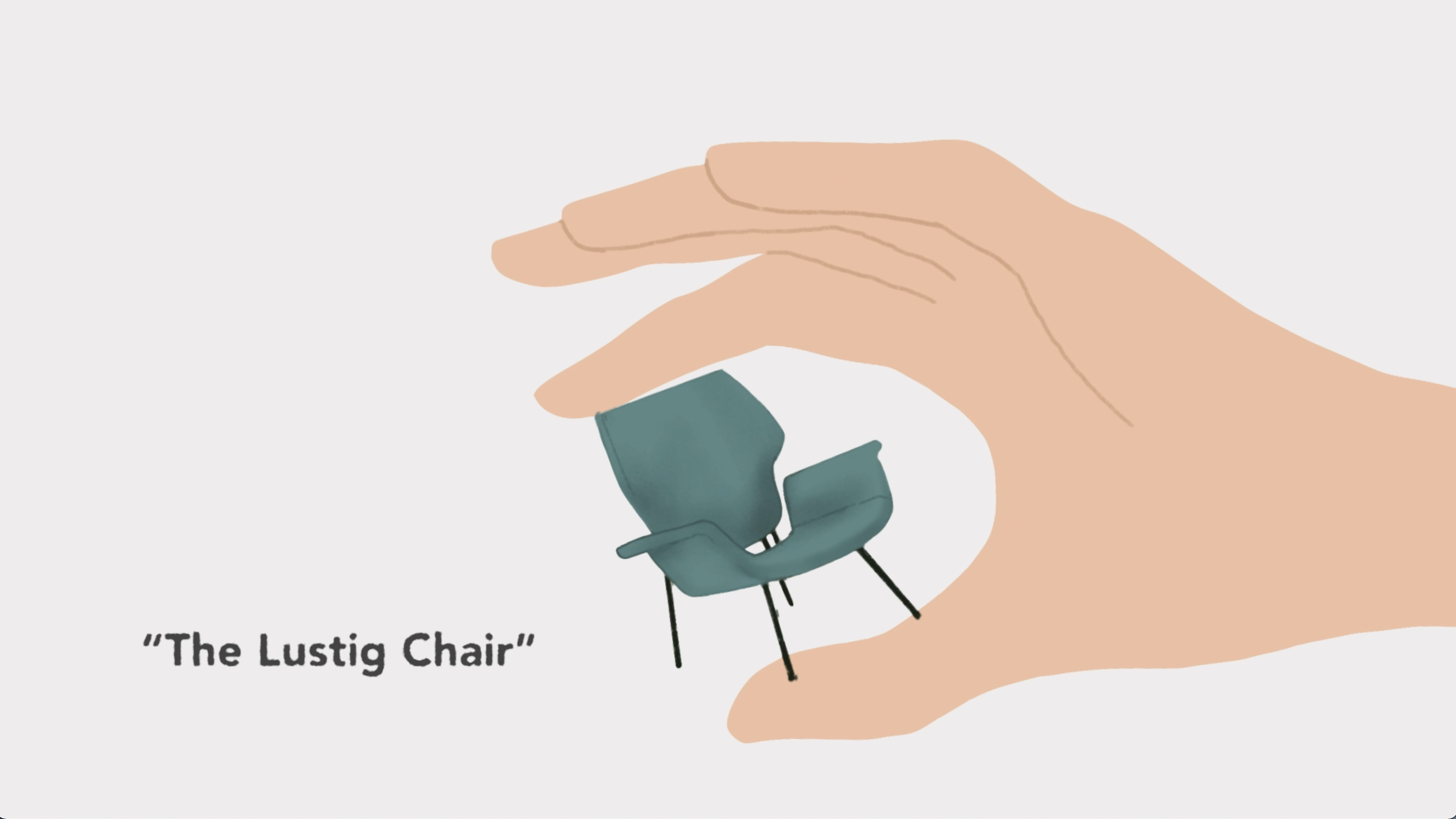 Poster
Zine
Mobile Experience

Science of the Secondary: The Apple
"Science of the Secondary is an inquisitive approach towards uncovering implicit conditions that exist in our everyday experience. When speaking of the term 'secondary', they refer to conditions and sensations that human beings are not conscious of in their day-to-day interaction with things and the immediate surroundings." - Atelier Hoko

Using text taken from Atelier Hoko's Science of the secondary, I designed a book that prompts an inquisitive exploration into a common everyday object: the apple.


︎︎︎Fall 2021
︎︎︎6 Weeks
︎︎︎Individual

︎ Print Design
︎ Photography